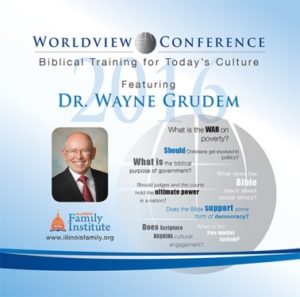 Worldview Conference: Biblical Training for Today's Culture featuring Dr. Wayne Grudem
Dr. Wayne Grudem is Research Professor of Theology and Biblical Studies at Phoenix Seminary in Arizona and taught at Trinity Evangelical Divinity School in Deerfield, IL, for 20 years.
He's written more than 20 books, including Politics According to the Bible, Systematic Theology and the Poverty of Nations.
Session 1: Biblical values show the only effective solution to world poverty.
Session 2: The moral advantages of a free market economic system.
Session 3: Why Christians – and especially pastors – should influence government for good.
Session 4: Moral and spiritual issues in the 2016 election.
Q & A with Dr. Grudem is included with each session.