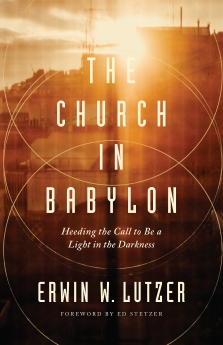 The Church in Babylon: Heeding the Call to Be a Light in the Darkness – Erwin W. Lutzer
How do we live faithfully in a country becoming more and more hostile to our faith in Christ?
Daniel faced this challenge just as we do. A captive in a pagan land, Daniel resolved to faithfully follow God while also serving in a nation that hated his God. Can we do the same? Like the Jews in Babylon, we must learn to engage our culture without being spiritually destroyed by it.
In The Church of Babylon, Dr. Erwin Lutzer will encourage you to do just that, by answering the pressing questions of our day like:
– How do we love, lead, and serve with Christ's heart and mind in today's Babylon?
– What are the five false gospels in our churches and how do we stay true to our Christian witness?
– How do we respond to transgenderism and Muslim immigration with biblical truth and compassion?
We are moral and spiritual exiles in a culture growing increasingly hostile toward Christianity. But God is faithful. Let us move forward in hope, remembering that it is in times of darkness that God's light shines most clearly.
Erwin W. Lutzer is pastor emeritus of The Moody Church in Chicago, where he served for over 35 years. A renowned theologian, Dr. Lutzer earned his BTh from Winnipeg Bible College, a ThM from Dallas Theological Seminary, an MA in philosophy from Loyola University, and an honorary LLD from the Simon Greenleaf School of Law. He is an award-winning author and the featured speaker on three radio programs that can be heard on more than 700 radio stations in the United States and around the world. Dr. Lutzer and his wife Rebecca, live in the Chicago area and have three grown children and eight grandchildren.